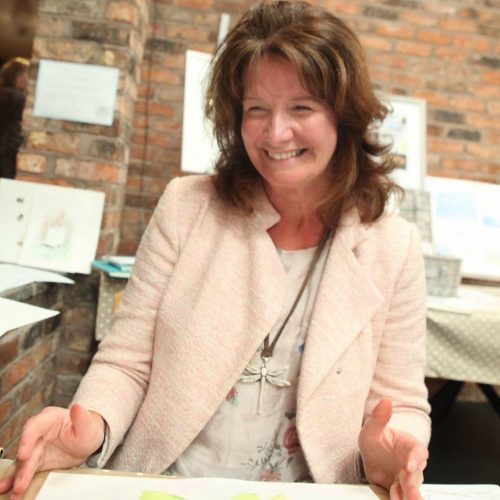 Drawing, painting and sketching is all about enjoying your topic. I love to paint in a garden or whilst on a dog walk with my Springer – capturing the natural changing of the seasons whether it is summer with its delicate florals, insects fluttering around them, or sitting on a snowy hillside working on a landscape view. I hope that my paintings are both timeless, beautiful, fluid and lively. I will often bring over a detail with handwritten anecdotes.
I graduated with a BA hons degree in illustration. I thought the place to be was the city and relocated down to London renting a small studio in bustling Covent Garden. It was a great time. Ultimately though, home and family was in Cheshire and the green countryside drew me back.
Exhibitions I have had include Young Illustrator of the year exhibition at Smiths Gallery, Covent Garden, The Association of Illustrators Gallery in London, The Arts Centre in Bollington, Cheshire. 'A Taste of Cheshire' this successful, solo show was to show case some of our fabulous local producers, farmers and artisans that are wonderfully committed to producing tasty, seasonal, local food. I fully endorse and draw a great deal of inspiration from them. They work to get the best out of their environments, whilst treasuring and nurturing our countryside and provide me with a wealth of subject material. I have also exhibited paintings at 'Summerfields' in Oxford and at the Royal Collage of London in aid of the Art for Youth.
My monthly Watercolour Workshops prove to be immensely popular; I work with a different seasonal topic each month with small groups at my rural Cheshire studio. However, more recently in 'lockdown' I virtually demonstrated live a Spring floral to 78 Cheshire WI members from my kitchen table. A bit different to my regular classes of no more than 6 at a time!
Groups of eight artists come Painting and Sketching with me on fun trips to Anglesey, it's always a treat. We stay in beautiful accommodation overlooking the sea, take ventures to the pretty harbours & beaches nearby, enjoy blowing the cobwebs away. We will always top off the day with a few pre dinner drinks, good chat and laughs whilst reviewing our sketches and paintings. It feels good to be generous with your art and share knowledge and skills.
I hope that you enjoy my website and please drop me a line if you would like to discuss a possible painting, print or to find out more about my workshops. I would be delighted to help you.