Cheshire artist Allie's charming watercolour paintings depict her love of nature.
Cottage garden florals, countryside scenes, seasonal produce, wildlife, house & pet portraits.
Allie is delighted to run watercolour and sketching workshops from her airy studio set in beautiful Cheshire surroundings, Arley Hall & Gardens and Toolerstone House. Workshops are designed to cover a range of topics and techniques in a relaxed environment for complete beginners to the more experienced artist.
Please email Allie for current watercolour workshops topics and dates or to discuss a commissioned painting you have in mind.
Email: Alison@alliepottinger.com
JANUARY / Snowy landscape
10th or 24th at Toolerstone.
26th 6-8pm Private View Exhibition at Anthony Collins Macclesfield, please email me if you'd like an invitation.
FEBRUARY / Lights & brights, early flowers
7th or 21st at Toolerstone.
17th 10-3pm at the Studio, 18th 10-12 at my Studio.
MARCH / Mad march hares & foxes
7th or 21st at Toolerstone, 10th 10-3pm at the Studio. 11th 10-12pm at the Studio.
24-26th Group Exhibition at Clonterbrook Gallery.
APRIL/Pond life & reflections
4th or 18th Toolerstone. 13th 10-3pm at the Studio, 15th 10-12pm at the Studio.
MAY / Garden birds
9th or 16th at Toolerstone. 26th 10-3, 27th 10-12pm at the studio.
JUNE / Summer Blooms
13th or 27th at Toolerstone.
To book www.toolerstone.co.uk Or book the studio please contact me direct alison@alliepottinger.com.
New dates at Arley Hall tbc.
Please add me to Allie Pottinger's Mailchimp Newsletter email list. I understand my details will not be shared with anyone else.
Sign up for Allies newsletter for updates on new paintings for sale, watercolour workshop topics & dates in the studio, Zoom demonstrations and the latest from her sketchbook!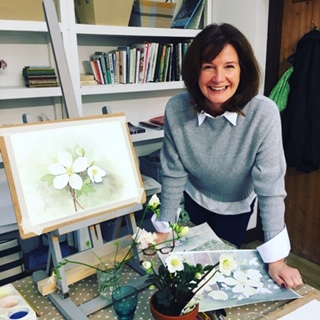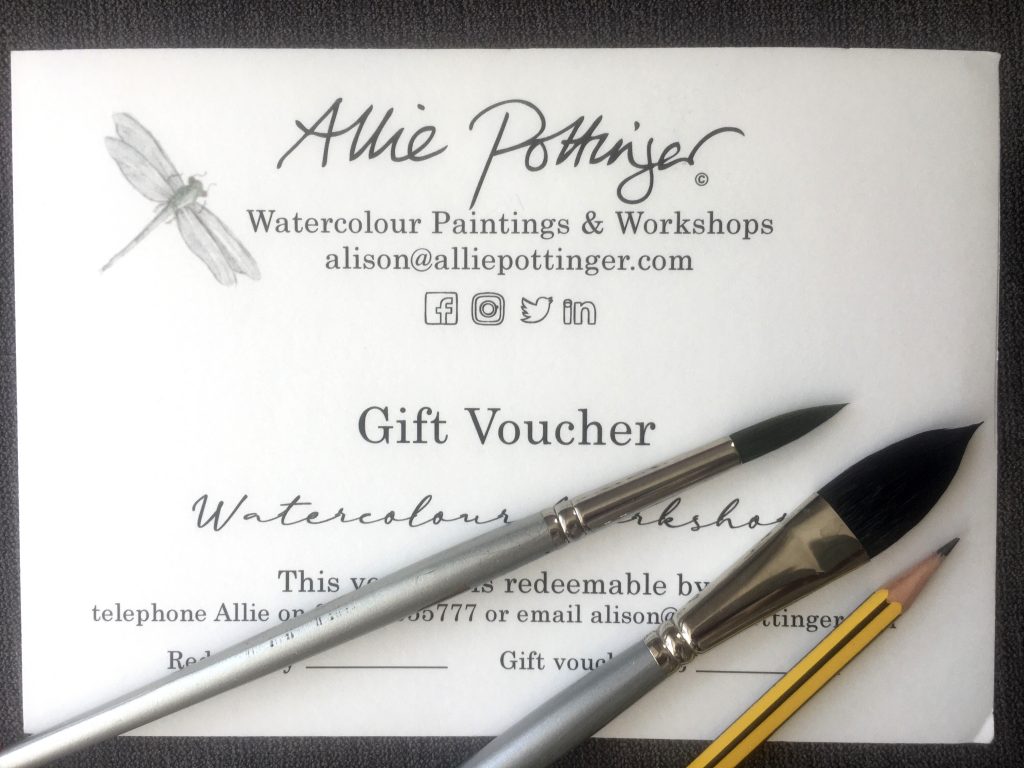 There are gift vouchers available to give to your friends, family or a colleague… suitable for complete beginners or intermediates alike. 
Do you have a budding artist that you know, or just someone who has everything and you are looking for that something different to give them? 
This could be it! 
Contact me below and you can let them experience one of my Watercolour Workshops as a gift from you. An experience they will cherish.
Contact me at Alison@alliepottinger.com