Cheshire artist Allie's watercolour paintings depict her love of nature.
'The delights of watercolour painting never fail to enthral me. There is transparency, fluidity & spontaneity. Working intuitively wet in wet, I enjoy the excitement of expressing characteristics and features that inspire me".
Allie graduated as an illustrator, however, over recent years she loves the freedom of working as a watercolour artist based in Cheshire – creating paintings by season, evocative seascapes, landscapes, florals and wildlife.
Allie runs watercolour & sketching workshops from her airy studio gallery set in beautiful surroundings, Arley Hall & Gardens and also Toolerstone House. Workshops are designed to cover a range of topics and techniques in a relaxed environment for complete beginners to the more experienced artist. 
Please subscribe to my monthly newsletter further down this page for current workshop information, exhibitions or to view current works.
Email: Alison@alliepottinger.com
JUNE / Summer Blooms
27th at Toolerstone House, Sandiway Nr Northwich – to book www.toolerstone.co.uk
JULY / Summer Blooms
Arley Hall & Gardens 4th or 5th – to book please email alison@alliepottinger.com
SEPTEMBER / Late Summer 
in the cutting garden with the Contented Mole. To book please see www.thecontentedmole.com
SEPTEMBER
Friday 15th / Saturday 16th & Sunday 17th September 'Spirit of Luskentyre'  EXHIBITION an exciting collaboration between photographer Nigel Danson and Allie Pottinger, showcasing their Isle of Harris work from spectacular Luskentyre beach.
SEPTEMBER / Heavenly Hydrangeas
26th at Toolerstone.
29th/30th Sept & 1st Oct Goosefest arts event at Clonterbrook.
OCTOBER / Hedgerow Harvest 
3rd at Toolerstone.
NOVEMBER / The Northern Girls 
7 professional artists celebrate their work in a 3 day show at Clonterbrook Gallery, Trap Road, Swettenham Heath, CW12 2LS (celebration launch party by invitation) Open to view 10-4pm Friday 3rd, 4th & Sunday 5th. Please note the gallery is upstairs.
NOVEMBER / Winter landscape painting 
16th at Toolerstone. 
DECEMBER / Christmas sparkle 
including Christmas wreath painting and various other gorgeous seasonal pictures, something for everyone – creating watercolour cards.
To book at Toolerstone please book via their website www.toolerstone.co.uk to book at my studio gallery in Swettenham Heath near Congleton or for Arley Hall, Cheshire please contact me direct alison@alliepottinger.com.
Topics to come; Perspective drawing, buildings, gateways and foliage. Spectacular seascapes.
Please add me to Allie Pottinger's Mailchimp Newsletter email list. I understand my details will not be shared with anyone else.
Sign up for Allies newsletter for updates on new paintings for sale, watercolour workshop topics & dates in the studio, Zoom demonstrations and the latest from her sketchbook!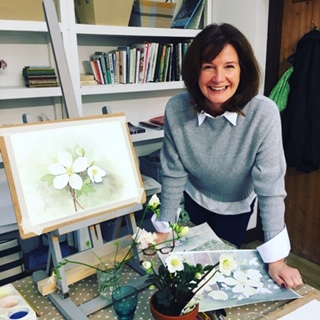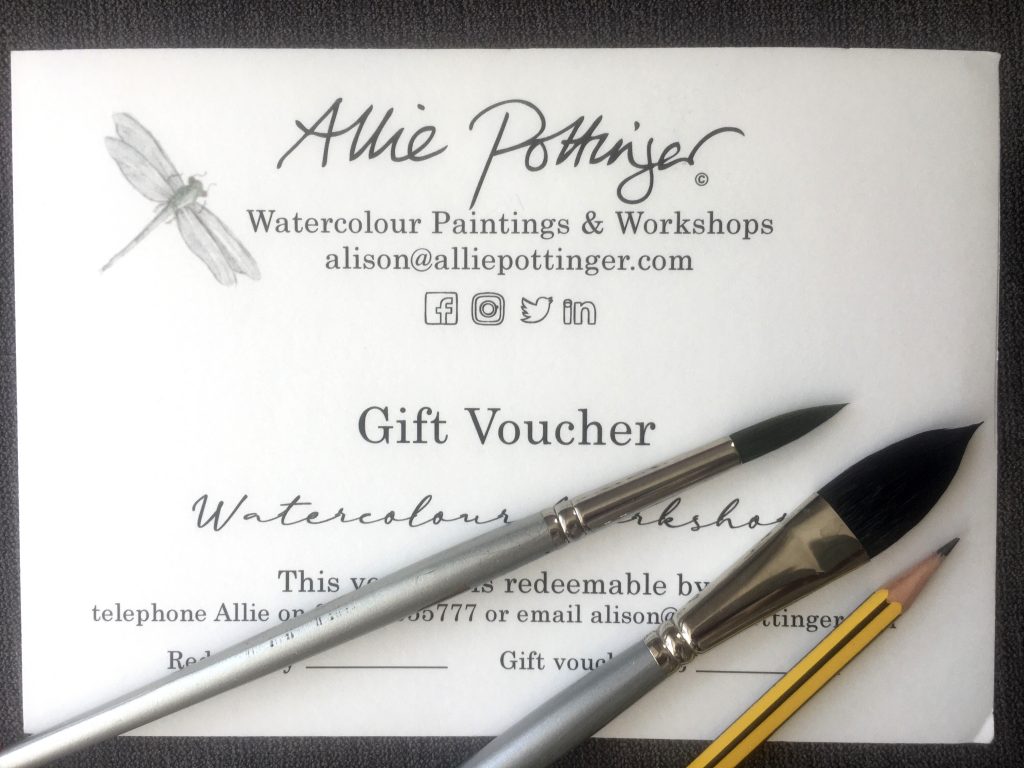 There are gift vouchers available to give to your friends, family or a colleague… suitable for complete beginners or intermediates alike. 
Do you have a budding artist that you know, or just someone who has everything and you are looking for that something different to give them? 
This could be it! 
Contact me below and you can let them experience one of my Watercolour Workshops as a gift from you. An experience they will cherish.
Contact me at Alison@alliepottinger.com